Over the Easter extended holiday, we were able to venture outside Ocho Rios and visited Kingston (family), St. Elizabeth (YS falls, Black River) and Westmoreland (Bluefield beach). Remember to take advantage of your days off.
The Story of the Jamaican Easter Bun Tradition From The Hot Cross Buns
We started off the week at Port Maria A&E seeing a variety of patients including a family with scabies and multiple complaints of "tin allergies" or allergies to canned foods (tin corned beef, tin mackerel) … quite interesting. Wish we could do some allergy skin testing to find out what's going on.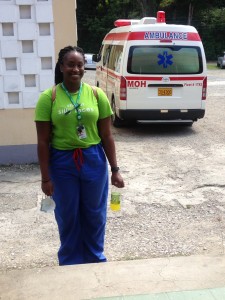 Dr. Roxanne Samuels next to 1 of Port Maria Hospital's 2 ambulances. Typically there is a driver that picks up non life-threatening cases. During transport of critical patients, a nurse +/- a physician will travel as well.
On Wednesday, was National Doctor's Day (celebrated in the US). Highlights of the day at Annotto Bay were:
(1)
 Meeting a 113 year old patient in the A&E. Per her granddaughter, she was walking up until 13 months ago and does not take any medications for any chronic illnesses. Her 114
th
birthday was on April 1
st
.  Happy Birthday! After a "google search", per the Jamaican Observer newspaper: the oldest known alive Jamaican is a woman named Viola Moss Brown, who was 115 years old in 2015. So, maybe this lady is the second oldest living Jamaican…just maybe.
(2)
A 2 year old male who brought in for evaluation by his mother. Per the mother, he saw a goat or cow eating grass and wanted to be like the animal. He got a single long blade of grass stuck in this throat. He was stable without any respiratory compromise and was eating and drinking without issues. Unfortunately, after two different physicians attempting removal – he was referred to ENT. He was quite a playful, cooperative and happy patient – Will never forget him.
The rest of the week was filled with multiple dog bites and other interesting patients including a new sickle cell diagnosis and trying to navigate the Jamaican health system for complex medical patients in need of special services (8 year old girl with Down syndrome, 18 month old boy with presumed cerebral palsy). Interestingly, we learned that patient families would have to pay out of pocket for MRIs if needed. 
We ended the week with a busy clinic at the Port Antonio Health Center. The drive was long and through many narrow roadways, but the view outside the car window and the gracious patients make the long drive worth it.  Dr. Lenock and staff (wonderful nurses and pharmacy tech) were very helpful and greeted us with open arms. We ended the week with a car ride home with Mr. Campbell (Port Antonio Health Administrator) who answered all our questions on how we could give back to the Jamaican health system after completion of residency.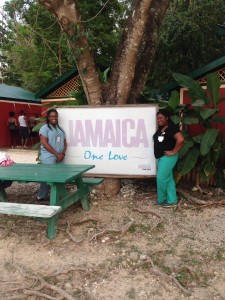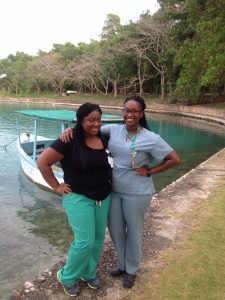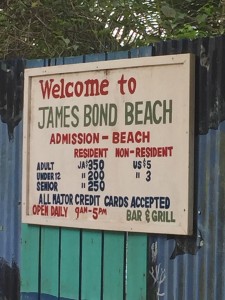 pictures from our quick  after work tour of James Bond Beach (about 10 minutes drive on highway from Couples hotel).
Thoughts of the week
Remember Jamaica is small, you may find out that one of the doctors you work with is a distant cousin or that your patient may be related to you.
Success during this experience is greatly based upon understanding the system. Don't be afraid to ask for help, calling the lab, calling Dr. Ramos/Ravi, or calling the pharmacy. At the end of the day its about doing your best with what you have for your patient at that moment.
By this time you may feel like your impact is minuscule but every day, every week the staff are happy to see you because the help you provide (big or small) is very valuable.
one more week to go
                Nicole & Roxanne