rd
 trip to the island.  Our first 2 trips were busy working in the pediatric clinics that the Issa Trust has sponsored for the past 10 years.  This trip was different.  We had an opportunity to see more of the beautiful island, visit multiple hospitals and meet with dignitaries. But most importantly, we gained a new appreciation into the depth and value of the work that has been carried out by the Foundation and Diane Pollard.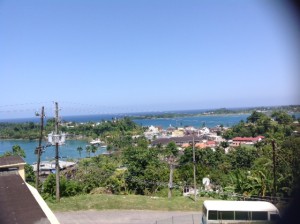 Our first day we traveled to St Ann's Bay and returned to a hospital we had visited last September. We were again escorted through the hospital, weaving through seemingly endless lines of seriously ill people, waiting all too patiently to be seen by a care provider.   The pediatric unit bares no resemblance to the hospitals we've worked in, but one is immediately struck by the dedication and caring nature of the staff, working with severely limited resources.   We carried a variety of Welch Allen equipment that was being donated. Thermometers, blood pressure cuffs – tools we take for granted are received with overwhelming gratitude.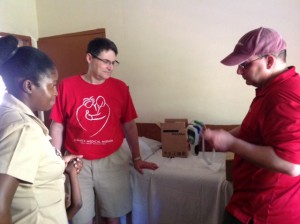 The units were busy, the nurses and physicians, including trainees utilizing their strong clinical skills to provide the best care possible.  We were warmly welcomed, a result of the relationships established over a number of years.  This scenario was repeated at the other hospitals we visited.   At the hospital in Annotto Bay, we witnessed a delighted physician overwhelmed with the donation of an exam light.   Previously, his only way to illuminate any assessment or procedure he performed was the light on his phone. Our trip to Kingston included meeting with Lady Allen, the Minister of Health, and visiting Bustamante Children's Hospital.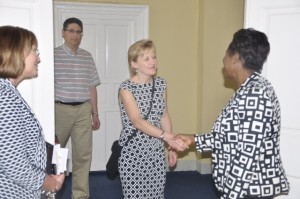 We came away from this and all hospital visits with a new appreciation for the opportunities for making sustainable contributions to pediatric care.  These include not only resources and equipment, which we had the pleasure of donating during this visit, but also education.  The lack of subspecialty care is striking, the need is vast.  The words that Diane repeated to everyone with whom she interacted 
echo in our ears – "what can we do to help you?"     We are excited about responding to the answer.