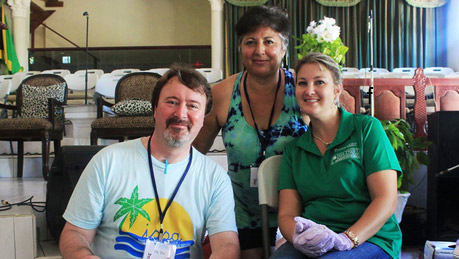 From left: Issa Trust Foundation's medical director, Pat Brophy, with dental hygienists Silvia Flores and Mary Sullivan.
US Volunteers Deliver Medical Aid To St Mary Communities
Orantes Moore, Gleaner Writer
ORACABESSA, St Mary:
A MEDICAL team comprising more than 40 volunteers from the United States of America joined forces with the Issa Trust Foundation (ITF) to deliver a four-day mission across three districts in St Mary last month.
The delegation, led by the ITF's medical director, Dr Pat Brophy, comprised pharmacists, physicians and therapists from hospitals in New York, Florida and Indiana, and targeted children in Oracabessa, Islington and Mason Hall with a series of mobile health clinics.
According to Brophy, the foundation, which celebrates its 10th anniversary this year, has developed a highly efficient process for providing quality, paediatric medical care as part of its long-term strategy to support and partner with local medical and other organisations.
He told 
Rural Xpress
: "Four years ago, we introduced an electronic medical records system and now we've restructured into something like a clinical microsystem, so we're able to run through over 200 patients a day, and give the kids great care.
"The system is a very lean process. The kids come in and register on our computer database, so we know if they are repeat visitors. From there, they have their vital signs checked and we monitor weight, growth, blood pressure and pulse and respiratory rates.
"If the patient is either a child aged between six months and two years, or a young lady over the age of 12 years old, they can also get their blood count [tested] because there is a high rate of anaemia in those groups, so we look for sickle cell or any indication of those kinds of things."
While the children receive full body, dental and eye examinations, and medication and eyeglasses if necessary, completely free of charge, the foundation collects detailed information about each patient, which it shares with the Ministry of Health (MOH).
Brophy claims that between the annual missions and the ITF's paediatric residency programme at Couples Hotel in Tower Isle, the charity has delivered health-care services to more than 60,000 children since 2010.
Nurse Jerre Grefe has travelled on four missions to Jamaica and watched the project flourish in recent years. She said: "I keep coming back to Jamaica because it's a wonderful country with wonderful children.
Good care
"The work we do is important because every child deserves good medical care and health, and every year, [the mission] gets bigger and bigger because of word-of-mouth."
Nurse Monica Keleher, who was returning to Jamaica for the second time, added: "Clinics like this are essential. I went to Haiti right after the earthquake and for three consecutive years after that because, in terms of sustainability, it's important that we keep our kids healthy."
The ITF's primary objective is to support local communities and help the Government develop a "… sustainable and integrated health-care system," said Brophy.
"We've been working towards developing an educational programme that is in alignment with the MOH's plans, particularly for neonatology.
"We integrate ourselves within the paediatric community and our practitioners go out to local hospitals to participate in seeing patients on a daily basis."
He added: "Last year, we noticed a decrease in incidents of asthma, probably due to education and changes in the Government's smoking policy, which is good. Also, among some of the kids we've been monitoring for the past few years, there have been improvements in growth and a decrease in rates of anaemia."
rural@gleanerjm.com
PHOTOS BY ORANTES MOORE
Quoted From the Jamaica Gleaner: 
http://jamaica-gleaner.com/gleaner/20141011/news/news6.html#.VDl0-IjUaFY.twi