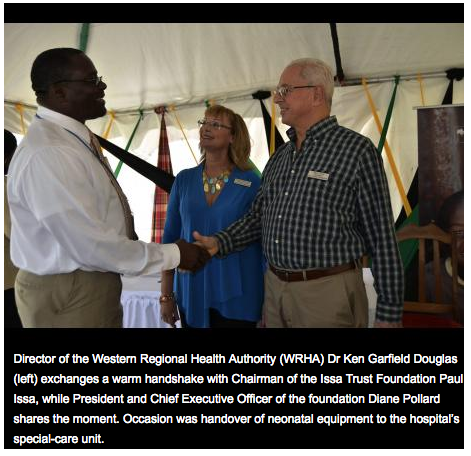 Reported by the Jamaica Gleaner Friday | April 22, 2016 | by Christopher Thomas
Director of the Western Regional Health Authority (WRHA) Dr Ken Garfield Douglas (left) exchanges a warm handshake with Chairman of the Issa Trust Foundation Paul Issa, while President and Chief Executive Officer of the foundation Diane Pollard shares the moment. Occasion was handover of neonatal equipment to the hospital's special-care unit.
WESTERN BUREAU:
The Issa Trust Foundation has given a commitment to the Savanna-la-Mar Public General Hospital in Westmoreland to fully outfit the facility's neonatal unit as well as finance the training of staff to care for premature babies.
The commitment was given on Tuesday by Paul Issa, the chairman of the Issa Trust Foundation, during a brief launch ceremony on the grounds of the hospital. He also used the opportunity to outline additional plans by the organisation to improve health care at the hospital as well as at other facilities islandwide.
"I think we know that this hospital, along with every other hospital in Jamaica, has had some severe challenges, but we hope to be able to help you bridge the gap and address these issues," Issa told stakeholders in his brief address. "We want to help you to improve the service that you offer to the community of western Jamaica."
The neonatal unit has been equipped at a cost of J$24 million. Additional funds will be provided for the training of the staff to operate and maintain the facility. The foundation has also donated US$2,000 (J$244,460.50) worth of disposable equipment, which includes tubing and hypodermic needles, to the unit.
"The unit is based on the model of the special-care nursery we did at the St Ann's Bay Hospital a few years ago, which has reduced infant mortality rates by 30 per cent," said Issa. "We have replicated that here, and I think it is really going to change the quality of the neonatal health care at this hospital. We are going to be in an ongoing relationship, and we are very excited about it."
SIGNIFICANT BOOST
Dr Alfred Dawes, the hospital's senior medical officer, said the gift of the neonatal unit is a significant boost to the hospital's capacity to provide high-quality services.
"This unit has really boosted the hospital's efforts at providing care. Before that, we were not equipped to deal with premature babies, and so they had to be transferred," said Dawes. "If they were unfortunate enough to be the ones who were not accepted by Cornwall Regional Hospital, then we would not be able to care for them and they would die."
"With the commitment of the Issa Foundation, and the training programme and the increased staffing that we expect to get, once the nursery is up and running fully, then we should be able to provide top-class care for these premature babies," added Dawes.