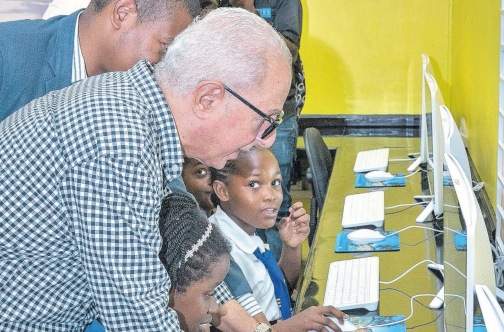 From the Jamaica Observer October 9th, 2018
AS the top-performing school in St Mary and Region Two, Oracabessa Primary has to ensure it maintains its position, and the recent opening of a computer lab there is one way it plans to fulfil its mission of adequately catering to students.

The lab was donated by the Issa Trust Foundation and Oracabessa Foundation in collaboration with the NCB Foundation. It is equipped with 18 new computers and is expected to serve almost 1,000 students.

"This will go a far way in enhancing literacy and numeracy of our students. We now have [the] National Standards Curriculum which requires the use of technology and this will go a big way in enhancing that and promoting the Ministry of Education's mission…" Principal Gregory Davis told the Jamaica Observer following the September 29 opening.

Davis, in expressing his gratitude at the opening ceremony, said he was really happy that the various foundations saw the need to partner with Oracabessa Primary.

"I'm really happy that the partners saw the need to partner with us. I am really proud to be the principal here to chart the new course," Davis said.

The Issa Trust Foundation also renovated the toilet facilities at the school.

Davis said the renovated facilities will go a far way in enhancing hygienic conditions for the family.

Chairman of the Issa Trust Foundation Paul Issa explained that although the trust has been focused on paediatric health care, it also places value on helping in education and has plans to replicate the Oracabessa donation at other schools.

"We are happy to have the privilege of doing this," Issa said.

Jonathan Gosse, director of the Oracabessa Foundation, described the donation of the computer lab as a celebration of the start, recognising that more is needed.

To that point, Principal Davis made an appeal for more support from the private sector.

"It is an excellent gesture working in partnership with the private sector, [but] we need a lot more, so we are asking for more support from our partners," he said.

Member of Parliament for Western St Mary Robert Montague, who also highlighted some of the institution's needs, called on the Ministry of Education to invest in Oracabessa Primary.

Montague pointed out that the school has been around for years and as a result, is in need of renovation. He pointed to the wooden flooring as an example of the improvements which are needed.

"This is a school that the ministry should invest in," Montague argued, adding that the investment is even more necessary given the school's reputation as the top-performing school in St Mary.

Montague and Minister of State in the Ministry of Education Floyd Green were taken on a tour of the institution to look at its needs.