As compared to other places I've worked and visited, I find myself wondering how recent the organizational changes are and if it has anything to do with the local doctors.  Perhaps it is just population bias, but there are many people here who have completed training at institutions in Europe and North America, but then return to Jamaica to share their skills and knowledge.  This is in contrast to other areas of the world, where expatriation of trained doctors is a major issue.  I don't know what that means for Jamaica in the next 20 or 30 years, but I hope the trend continues such that it obviates the need for volunteers beyond guest speakers for educational purposes. Treatment-wise, I'm seeing a lot of asthma, otitis, skin infections, and gastroenteritis and enjoying the practice in expanding my differential and stretching my brain.  One poor little guy got on the wrong side of an ant hill earlier in the week (the side with the ants on it), and had bites up and down his leg and his groin that were itchy and had become secondarily infected.  He shook his head solemnly in agreement when I noted that the ants had not been very good playmates.  Only one child needed to be admitted for observation after an incarcerated, necrotic (rotting) accessory (extra pinkie) finger was removed, which was interesting, but not too interesting.  Not being too interesting as a patient is a good goal, as it suggests a reasonably good prognosis.
Island activities:  As the medical portion of this post was a good bit longer than intended, I'll keep the extracurriculars short.  Saturday morning's activity was a hike up Dunn River Falls, where I was adopted by a family from Pennsylvania, and held hands with them for the duration of the hike.  Ordinarily, the holding of hands while hiking up or downhill on wet rocks is not the recommended method, however, "no worries, mon."  Another couple saw me sitting down to dinner that night and enthusiastically rushed over to insist that I sit with them as "Dr. Jess shouldn't eat alone!" and introduced me to their vacation group, including a fascinating couple from Bosnia.  Sunday morning was a glass bottom boat tour, which wouldn't have been complete without the very talkative gentleman from Ohio who described his and his brother's multiple marriages and educated me on the finer points of travel throughout Mexico, Jamaica, and the Dominican Republic at some length.  Unfortunately, the roar of the engine became too loud and all I could do was enjoy the scenery.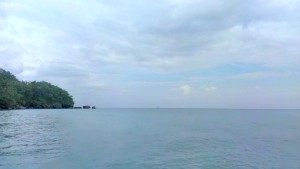 Overcast day at sea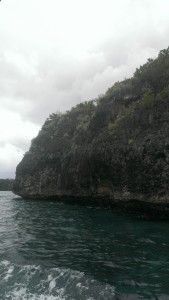 The guide said NOT to climb these honeycomb rocks.  Which look quite climbable.
Dinosaur rocks.