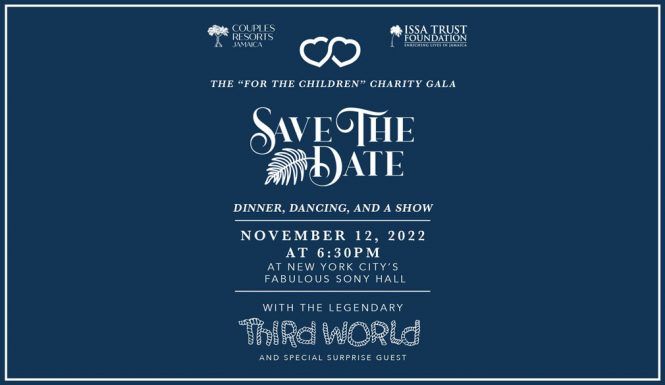 The Issa Trust Foundation's 2022 "For the Children" Charity Gala in New York City
Dear Friends,

As part of our ongoing fundraising efforts to provide life-saving resources to the children of Jamaica, we are hosting our first event outside of Jamaica: Dinner, Dancing and a Show, featuring our goodwill reggae ambassadors, the legendary Third World, at New York's fabulous Sony Hall in Manhattan's theatre district, on November 12, 2022.
Third World is maybe the most enduring reggae band of all time (and one of Jamaica's most consistently popular crossover acts internationally). There will also be a special surprise guest performer. Tickets are US$350 per person, inclusive of drinks, dinner, dancing, entertainment and more. The event will begin at 6:30pm, with cocktails, followed by dinner at 7:30pm. We expect to host 400 guests, seated at tables. Third World will perform from 9:30, and the evening will end by 11:30pm.
The funds raised from this event will enable the Issa Trust Foundation to start construction of its own children's health centre in the Ocho Rios area, to provide top notch pediatric healthcare to Jamaica's children on an ongoing basis.
We hope to attract many of Couples Resorts' repeat guests from the Eastern states, and we will provide reduced rates for the night or the weekend at a choice of midtown hotels. We also expect good attendance from members of the Jamaican diaspora in the New York area, as well as Jamaicans who will come up for the event.
We have designed several sponsorship packages for your consideration and invite you to review the attached deck to learn more about this opportunity. Your sponsorship will help us in our ongoing mission to better the lives of the most vulnerable among us, particularly Jamaica's children.
Please contact Diane at Pollard at 1-515-480-1683 or Paul Issa at 1-876-361-0707 for more information.
We look forward to hearing from you.
Best regards,
Paul Issa
Chairman