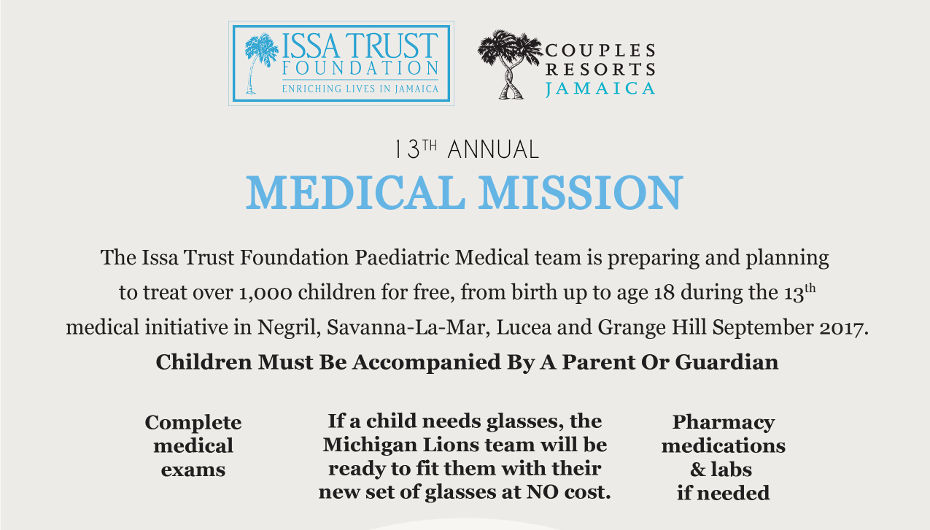 The Issa Trust Foundation is pleased to announce the 13th Pediatric Medical Mission to be held in Westmoreland and Hanover. Over the last 13 years, hundreds of volunteers have been involved in the program impacting the lives of thousands of children. We deliver sustainable, quality and impactful results with integrity, compassion and dignity for all.
This year we have a team of 40 volunteers including pediatric pharmacists, intensive care physicians, hematology oncology physician, general pediatricians, neonatologists, and pediatric nurses. Children will receive, at no cost, complete pediatric exams, labs if needed, pharmaceutical medications, fluoride treatments and eye exams, with glasses if needed for children ages birth to 18 years old.
In addition, a team of biomedical engineers will also be partnering with the local maintenance team at Sav La Mar Hospital. The team will work side by side with the staff providing hands on training, repairing equipment and conducting maintenance on incubators, warmers, ventilators and other selected equipment. The biomedical engineers will also bring parts to help repair as much of the equipment as possible.
The Issa Trust Foundation was established in 2005 by Couples Resorts as a nonprofit organization. The mission of the Foundation is to provide a system of prevention, health promotion and education, community health improvement and other services to promote well-being and development for the people of Jamaica.