Meet Dr. Jeff Segar Neontalogist
It is standing room only in the emergency room of St. Ann's Bay Hospital as Dr. Jeffrey Segar squeezes through the chaos to reach a back room. Here, he and respiratory therapist Jana Meredith are enthusiastically working to bring a stripped-down ventilator/incubator up to speed. "It could be the first on the island," he says, his eyes sparkling at the thought of how useful this particular piece of equipment will be. Having just finished his third medical mission to Jamaica, the dedicated neonatologist takes a few moments to share a little about his work with Issa.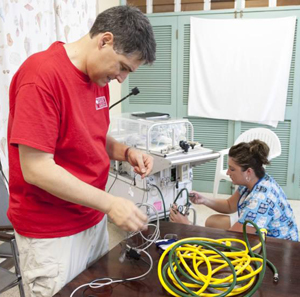 You are a neonatologist at University of Iowa. What does a neonatologist do?
A neonatologist typically cares for sick newborns, which includes term and preterm infants. Most of this care is provided in a neonatal intensive care unit. My job also includes a fair amount of administrative work, teaching, and research.
This was your third medical mission with Issa. Can you tell us a little bit about your work during these volunteer initiatives?
Initially, my focus was to work in the mobile pediatric clinic that Issa sponsors. Though I have continued this involvement, I have also been able to assist with in-hospital care, primarily in the NICU at St. Anne's Bay. This involvement has included direct patient care, education, the development and standardization of treatment protocols, the introduction of new devices and technologies (particularly those related to respiratory support), and the introduction of new therapies, such as the initiation of probiotics to reduce the incidence of a devastating intestinal disease called necrotizing enterocolitis.
You helped purchase a transport incubator/ventilator and had it shipped to Jamaica. Where did you get it, and why did you feel it was important for the Jamaicans to have this particular piece of equipment?
The transport incubator/ventilator was actually one that had been used in our own hospital and had been recently turned over to a surplus asset management company for auction. The need for such a piece of equipment was evident on my first visit to the hospital when I realized they had no functioning incubators to help keep small babies warm. Also, babies in need of higher levels of care are transported to the Kingston hospital, which is no easy task with their present equipment. Moving an intubated infant required someone to manually ventilate the infant the entire time, a difficult and less safe method given the differences in pressure and volume that can be generated with each breath. Now they have the ability to put the baby on the ventilator and keep him/her warm during transport.
You stated that you're focused on micro improvements for Jamaican health care. Can you explain what that means and give us some examples?
To make sustainable changes in health care delivery, we identify and focus on very small pieces. We recognize that we can not just come into a community or country and suggest broad changes. First, the infrastructure is not in place for such changes. Second, we would quickly wear out our welcome. We recognize ourselves as invited guests and function by identifying small areas of greatest need for which changes can be sustained. For example, on this most recent trip, we talked to the NICU physicians about using a standardized feeding protocol guideline. Guidelines, protocols and care plans have been shown throughout the healthcare industry to improve quality and safety.
Is there a success story you can share from the recent mission?
I think the biggest success was the delivery and use of the transport incubator/ventilator. In fact, hours after we delivered and set up the incubator/ventilator, it was needed by an 800 gram infant. To me, the fact that it was able to be used almost immediately to save a life defines success.
What is one thing you'd change for the people of Jamaica if time, talent and money were not an issue?
I'd improve nutrition and education, which go hand in hand. Without proper nutrition, one cannot function as a learner. And without education, one can not elevate the standard of care.
You and your wife, Ellen, made a dynamic doctor-nurse medical team on this trip. What is it like to work with your spouse and share a passion like this?
We truly look forward to the opportunity to work together and enjoy interacting with the patients and families. As a team, we each have a role, but we feed off each other in our interactions. We both are firmly grounded giving to others, whether it be our time or resources.
Do some of the families remember you from year to year?
Have you seen some children return with improved health? Oh, yes. We see and recognize a number of returning families and children. We keep an electronic medical record that helps document year to year changes. But it is the faces and smiles—not the medical record—that stimulates the memory.
You have skills that would be coveted by many charities. Why Issa?
There are many reasons. I'm drawn to CEO Diane Pollard's passion for improving the lives of children in Jamaica, and I like Issa Trust's focused approach. I enjoy the work with the other volunteers—who are a special bunch of people. Plus it's satisfying to see the truly tangible benefit we are able to provide.